Building Better Communities across the United States since 2002
MyGov is a web-based Software-as-a-Service platform used by hundreds of local municipal government agencies across the United States to manage their daily work, collaborate with contractors and other partners, and serve their citizens.
To learn more about our company, its history and vision, please visit our About Us page. Otherwise, read on to learn more about the MyGov Platform and its solution modules.
The MyGov Platform
The MyGov Platform is a complete ecosystem of interconnected modules purpose-built to meet the needs of local government departments such as Community Development and Public Works. Each module can function independently or can work in concert with other modules, sharing data and providing a robust solution tailored to your municipality's needs.
Every module is highly customizable, allowing the MyGov Platform to easily replicate your existing agency processes and workflows. And as your city's needs change, MyGov can grow with you by seamlessly adding additional modules to meet your needs now and in the future.
Read on to find out more about each MyGov module and how we can help you better manage your local government agency.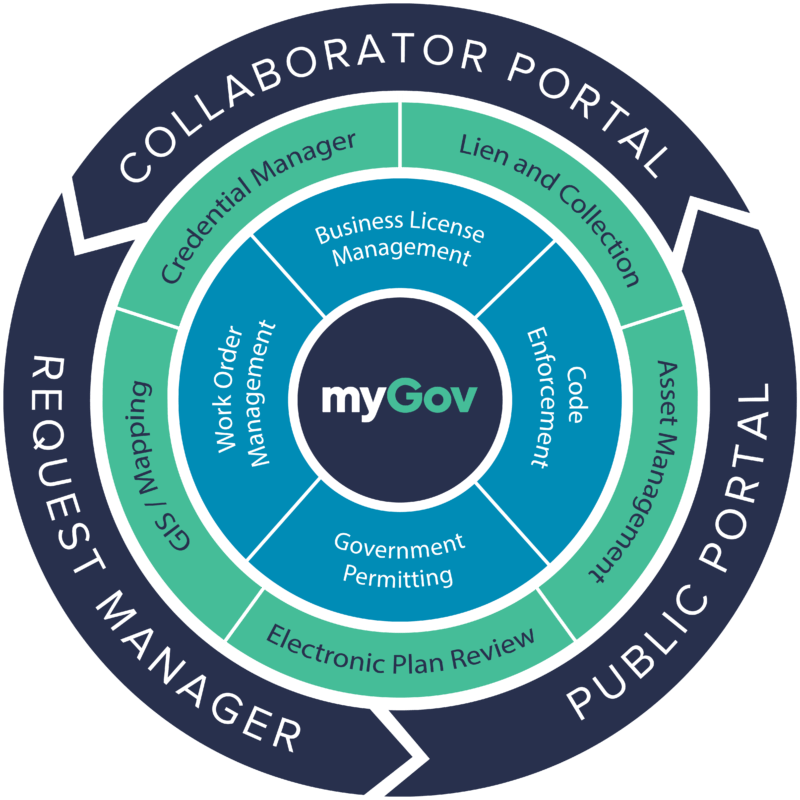 Our Lien and Collection software gives you a modern mechanism to recapture money and see how much money is owed on a specific property. Now, instead of spending hours digging through paper files, you'll spend minutes reviewing properties and can calculate payoff amounts — instantly.
GIS data mapping provides a wealth of information for agencies and residents who are curious about all aspects of civic life. With the MyGov GIS Mapping Module, you can save time, efficiently plan projects, make informed decisions around emergency management, offer enhanced communication between your agency and the public — and more.
Forget about manually tracking orders and keeping track of routine maintenance schedules. Let us do the heavy lifting for you. Our digital asset tracking delivers accurate data and constant updates — right at your fingertips. So, you can make informed decisions that save your agency time and money.
MyGov University is our online training solution that makes learning the MyGov Platform easy and fun.  MyGov U's engaging video-enabled courses train your staff on all the ins-and-outs of MyGov, while learning at their own pace. This is a great solution for keeping your current staff proficient, as well as easily onboarding new team members.